Date/Time

Starting Thursday, January 12, 2023
Every other Thursday
7:30pm EST
Watch all the videos from the Miles For Migraine 2020/2021 Mindfulness Series.
We are proud and excited to have launched the new Mindfulness for Migraine Series in August of 2020.
We are asking those previously registered to re-register for the 2022 Series which begins on Thursday, January 6th.
Mindfulness can be practiced in many forms other than sitting meditation. Moving meditations can be a mindful way to reduce stress - which is known to trigger attacks. These mindful practices can be done while moving or sitting. The practices we will offer are:
We all know the routine – you have tried everything to find relief from your migraine or headache disorder symptoms. You have probably also received unsolicited advice from more people than you care to remember. What else can you do? In some instances another medication may not help. However, what might help are mindfulness practices to reduce stress, enhance relaxation and build resilience in the mind and body.
Mindfulness teaches and trains us to allow and acknowledge the moment (of pain, anxiety, worry, depression) with compassion and without judgement. This can be helpful to calm the nervous system which is already activated by pain and other symptoms. While mindfulness may not stop the waves of debilitating symptoms, it can teach you how to ride the waves – like surfing.
Mindfulness is Evidence Based
Meredith Beaton Starr, MS, OTR/L
Meredith is an Integrative Health Coach with a Master's Degree in Occupational Therapy as well as advanced training in Healthcare and Leadership Coaching. She has been practicing for the past twenty six years in a variety of settings and is an expert in pain management, stress management and helping clients to optimize their ability to function in home and workplace settings to achieve optimal health. Her work with clients is centered on helping to create and sustain behavioral changes in congruence with healthy and adaptive goal setting and achievement.
Lisa writes to raise awareness about migraine. She cares about awareness since she was undiagnosed for over twenty years, which allowed her migraines to worsen over time. Finally diagnosed in 2011 and living with chronic migraine, she worked hard to educate herself and navigate the medical world to find effective treatment for her condition, though this is ever changing. She has written over 100 articles on migraine.com, presented at Retreat Migraine 2020, and volunteers for Headache on the Hill and Miles for Migraine.
Robin Boudette, Ph.D., is a psychologist and mindfulness instructor with more than 25 years of clinical experience.  She has a special interest in mind-body health and has extensive training in yoga and mindfulness meditation.  She works in private practice in Princeton, New Jersey and offers mindfulness programs and trainings in healthcare, higher education, and workplace settings.
Bonnie is a mindfulness instructor and Registered Nurse. She has extensive MBSR teacher training through the Myrna Brind Center for Mindfulness at Jefferson University Hospital. She has also received training through the Mindful Schools program geared towards teaching mindfulness to children and teens. Her career has included Nursing education, Nursing administration and Consulting, focusing on wellness and rehabilitation. She began practicing meditation over 25 years ago to help manage a chronic migraine condition that was resistant to medical management. Since that time the practice of meditation has played a central role in her life. Currently she teaches mindfulness for the Myrna Brind Center for Mindfulness at Jefferson University Hospital.
Adriane Dellorco (RYT200) is the founder of Yoga for Migraine, an online community that offers transformational yoga and coaching programs to people living with migraine and headache disorders.  She is a lifelong dancer and yoga practitioner who has been living with migraine since 2007.  Adriane has been featured in the 2021 Migraine World Summit, Migraine.com, the National Headache Foundation's Heads UP Podcast and in the Migraine Strong blog.  In addition to offering monthly yoga classes with Miles for Migraine and teaching at CHAMP's RetreatMigraine, Adriane provides migraine-friendly yoga practices in her online classes and group coaching programs.  As a mother of two little ones and a former public school teacher, she brings her life experience of living with migraine into her healing yoga practices.  She is proud to advocate in Headache on the Hill and is a member of CHAMP's Education Council for Headache Online (ECHO). Adriane's mission is to help others decrease their own migraine pain and reclaim their freedom with yoga.
Website: https://www.yogamigraine.com/
Join the Yoga for Migraine Facebook group at https://www.facebook.com/groups/yogamigraine
Follow her on IG at @yogamigraine
Grab Adriane's free video Top 3 Poses for Migraine Relief when you join the Yoga for Migraine email list.
Annika Ehrlich, Nurse Practitioner
Annika Ehrlich is a Nurse Practitioner at the UCSF Headache Center in San Francisco, California. She is a certified Family Nurse Practitioner, certified Neuroscience Nurse and holds an Additional Qualification in Headache from the National Headache Foundation. She sits on the board of the Headache Cooperative of the Pacific and is also a board member with the Alliance for Headache Disorders Advocacy.
Her interests include women's health, inpatient and outpatient headache care, advocacy, interdisciplinary care and integrative medicine. She enjoys collaborating with colleagues in clinical research and is currently pursuing her Doctor of Nursing Practice at the UCSF School of Nursing.
Mindy Holleran, PT, DPT, RYT 200
Mindy Holleran has always had a strong love for the human body and the human experience. Mindy earned her Bachelor's Degree in Exercise Science from Creighton University and her Doctorate in Physical Therapy from Western University of Health Sciences in California. Mindy has practiced physical therapy for the last 7 years in Phoenix, Arizona. Since the beginning of her career, she has enjoyed empowering her patients who experience headaches and migraines. Since 2018 she has treated headache and migraine patients from Barrow Neurological Institute's, Lewis Headache Center. Mindy received her Yoga Teacher Training specifically to continue to empower her headache and migraine patients on a deeper level.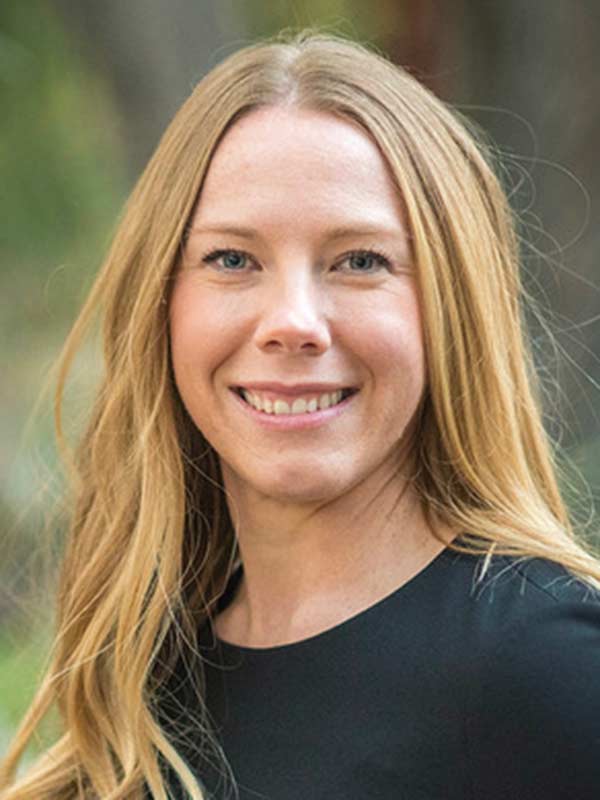 Juliana Kroese, PT, RYT, C-IAYT
Juliana Kroese, PT, RYT, C-IAYT is a licensed physical therapist, registered yoga teacher and certified yoga therapist. She works at the Jan and Tom Lewis Migraine Treatment Program at the Barrow Neurological Institute in Phoenix, Arizona. She has been practicing yoga for over 20 years, and loves combining her extensive knowledge of anatomy and physiology with yoga, breathwork and mindfulness. Juliana received her degree in physical therapy at the European School of Physiotherapy in Amsterdam, and her yoga training through the Sivananda and the Integrative Yoga Therapy programs.
In Juliana's classes you will find an emphasis on postural re-education, alignment and mindfulness to generate a positive shift in your physical and mental day-to-day function. These classes will provide tools which will extend far beyond alleviating headache and migraine as you learn to incorporate them into your daily routine.
Dr. Logue is a psychologist specializing in mindful habit change and healing distressed couple relationships.  Her decades of experience with eating problems and couples therapy gives her an appreciation of the interdependence of mind and body and the value of social support for healing and growth. Her website is https://nancyloguephd.com/.
Suzan has worked at Tampa General Hospital as a fitness, wellness & health educator since 2003, first working with employees & then expanding out into the Tampa community. She has created and provided over fifty community wellness presentations and is certified as both a leader and master trainer in many other evidence-based and self-management programs, such as Stanford University's "Living Healthy with Chronic Pain", "Powerful Tools for Caregivers", and four diabetes-related programs. The main theme throughout all these programs is encouraging healthier lifestyles through physical activity, better nutrition, and cognitive and behavioral change strategies. She has been certified to teach several styles of tai chi thru Dr. Paul Lam since 2012 and currently teaches several classes in the community including a tai chi for Parkinson's program that is sponsored by USF.
Suzan has a bachelor's degree in social work & a graduate certificate in gerontology. Helping others achieve a better state of wellness has been her lifetime career and passion. The motto on her "FitCity" business card is: "What the Mind believes, the Body Achieves" derived from a quote by Coach Vince Lombardi. This fuels her passion & philosophy to "Educate, Motivate, Activate".
Jen Waters, MA, ATR, LPCC
Jen is a Registered Art Therapist, Licensed Professional Clinical Counselor (CA), and Licensed Mental Health Counselor (MA). Jen received her M.A. in Expressive Therapies from Lesley University and has had over 10 years of professional experience providing arts-based interventions in community mental health settings. She works with clients on issues related to life transitions, healing after trauma and loss, overcoming depression, low self-esteem and anxiety, stress management, and self-care through mindfulness. Jen is a Ph.D. candidate at Saybrook University, where she is specializing in Creativity Studies and also operates a private practice in Modesto, CA. https://www.creativespacecounseling.com/