Support group series to learn essential coping and migraine management skills. Groups forming now!
Migraine is much more than a headache. Because few realize that it's a neurobiological disease, people with migraine may experience stigma and discrimination. You may feel isolated and shamed, as if no one understands. Our Migraine Community Groups bring together the people just like you to connect, discover and share. We provide helpful resources and supportive discussions to help you better navigate life with migraine.
Finding other people with migraine who understand what you're experiencing can be tough. We bring together men and women from each community to connect with each other, forming supportive local networks that can get you through the toughest of days.
Discover new learnings and insights while exploring themes and topics that affect not only your life, but those around you.  You'll understand more about migraine, yourself and others to make living with migraine easier.
Each group is professionally facilitated by a licensed therapist or trained group leader who will guide the discussion in a safe, supportive and private environment. Explore topics like Isolation, Battling Stigma, Communication with Family and Friends, and Advocating for Better Care. Group sizes are limited to allow each person the chance to share and grow.
Register for Support Groups
We offer recurring online support groups most days of the week. Please join us via Zoom where you can connect with your community and feel supported. All groups listed below are for those that are age 18+. We also offer Teen Talks for participants 13-19 years old.
Sunday
1st & 3rd Sundays
YOUNG ADULTS
(ages 18-28)
7:00 pm EST
STARTING MARCH 5, 2023
Led by Tanya Upadhyaya
---
2nd/4th Sundays
7:00 pm EST
Led by Sharon Rhoades
Friday
Every Friday
11:00 am ET
Led by Jeanette Rotondi
Currently full and not accepting new participants.
Hosted by: Kelli Sloan, MSW
Teen Talks is a weekly virtual meetup group for young people aged 11-19 who have migraine and other headache disorders. When applicable the chat will be divided into two groups, for ages 11-13, and 14-19.
A parent or guardian must complete registration for anyone under 18.
Tuesdays
7:00 - 8:00 pm EST via Zoom
Parent-to-Parent Support Group
Hosted by: Michelle Clementi, PhD
This one-hour virtual group for the Parents of children and teens with migraine or other headache conditions will meet twice a month to discuss the ups and downs of their child's migraine journey in a safe, judgment-free space.
First and Third Wednesday of each Month
8:00 pm EST / 5:00 pm PST
Kelly is a seasoned Clinical Nurse Specialist of 35 years.  As a CNS, Kelly was deeply involved and dedicated to patient, family and medical community education.  She also spent a great deal of time being an advocate on a national level for patient rights, program funding and patient/family empowerment and education.
Kelly has been published, writing both clinical articles and chapters for textbooks.  She served as a member of a National Commission and participated in the publication of the report and its presentation to Congress.  As part of her CNS and advocacy roles Kelly spoke on the National and local level on a variety of topics.
Kelly's migraine story began in childhood and progressed throughout her life until finally being diagnosed after 33 years.  Her migraines transitioned to intractable chronic daily migraine 22 years ago; where her migraine status remains to this day.
Kelly is involved in several migraine and chronic pain organizations and is a Community Group Facilitator for Miles for Migraine. Kelly is passionate and committed to making the "invisible"… "visible". Kelly has one child, a daughter, who also has migraine.
Michelle Clementi, PhD is a pediatric psychologist in the Pediatric Headache Program at Children's Hospital Colorado. She specializes in working with children and teens with chronic headaches and has a particular interest in the connection between sleep, pain, and mood/emotions. Dr. Clementi uses psychological interventions, such as cognitive-behavioral therapy, to help children and teens manage their physical and mental health and improve their quality of life. In her free time, Dr. Clementi enjoys hiking and exploring beautiful Colorado.
Diane is a lifelong Philadelphian, graduating from Hahnemann University before spending 30 years in the pharmaceutical industry. During her career, Diane facilitated research in drug discovery with a focus on pain relief. She has suffered with chronic migraine for 20 years which ultimately forced her to leave a career that she loved. Diane joined Miles for Migraine in 2019, volunteering as a facilitator for the Migraine Community Group at Jefferson Headache Center. Working with Miles for Migraine has allowed Diane to pursue her passion of engaging with and helping others, as she focuses on spreading migraine awareness, sharing her personal story, and supporting others through their migraine journey.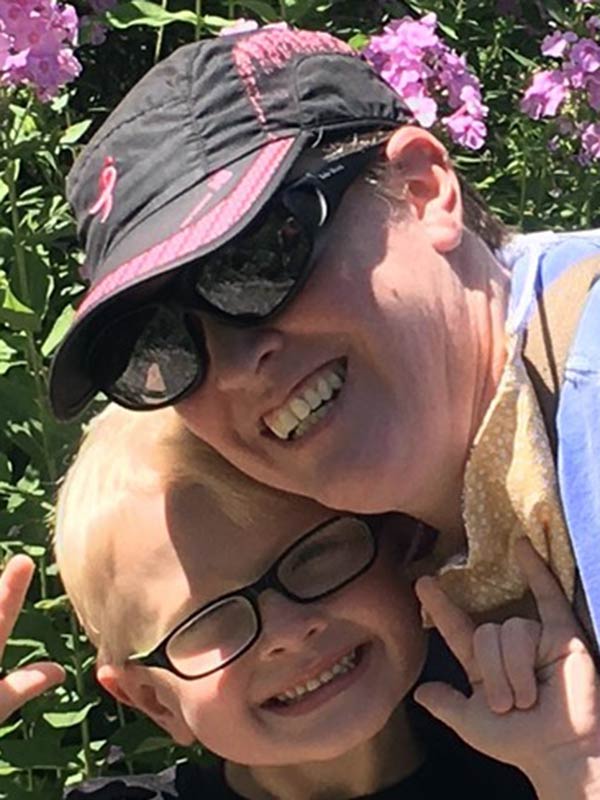 Sandra is a mother of one and grandma of two. She is a self-employed dog trainer and provides life enrichment for her clients' pets as well as her own. She is currently continuing her education in science-based animal behavior and training. She also enjoys walking in nature and making soap.
Like so many people living with chronic migraine, Sandy's migraine journey began in childhood. A life-threatening infection and surgery in 2014 triggered the onset of new daily persistent headache, and she has been chronically intractable ever since. Again, like far too many, she was without a proper diagnosis and treatment until 2019. Her experience in those years between becoming chronic and being diagnosed inspired her to help others who may be experiencing similar difficulties by participating in research and patient education events, and fundraising for migraine and other headache disorders. She also completed training with the US Pain Foundation to become a support group leader so she can help others on their migraine and headache journey.
Deena is a third generation living with chronic migraine. Her migraine journey started during childhood and progressed with adulthood. She is a strong believer of making advocacy part of your treatment plan and finds comfort in educating her community about migraine disease.
Deena resides in Seattle, Washington and works in the technology industry as a Project Manager for Amazon Pay. Struggling to find support for her invisible disease within the workplace, Deena found Miles for Migraine support group four-years ago which started her advocacy journey. Deena is co-chair for Miles for Migraine Event committee, participated in Headache on the Hill in 2022 and will participate again this year. In addition, Deena has been Shades for Migraine Community leader for the last two years, raising awareness of migraine disease and importance behind Shades for Migraine day within her community.
During her free-time, Deena enjoys exploring the Pacific Northwest with her dog, Tater Tot and Fiance, Charles. Deena does not believe in letting migraine control her outlook on life which is displayed in her motivation and passion to keep moving forward.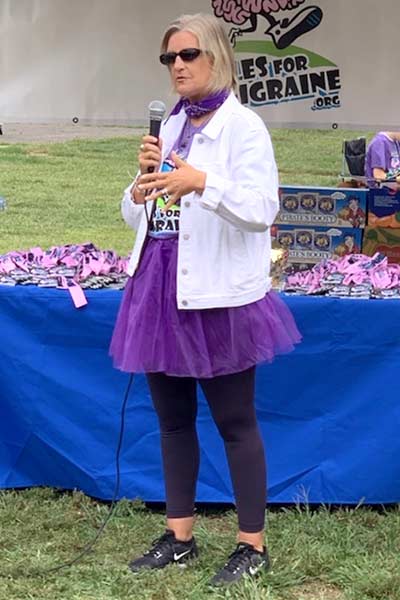 In November of 2006, Katie was a regional marketing director, with a prominent assisted living company that focuses on dementia and Alzheimer's. She was blindly hit with the diagnosis of a rare cancer in her sinuses and right eye. Gratefully, she is cancer-free. What remains from this cancer is chronic migraine. However, the radiation to her face left her with a "headache" that did not go away. After almost two years with this persistent headache, she was sent to the Jefferson Headache Center where she was diagnosed with Chronic Migraine. She has been fighting Chronic Migraine for sixteen years.
After she attended her first Miles for Migraine Run/Walk/Relax Event in Philadelphia, she was inspired and she knew she was not alone! That was the piece that was missing. She felt alone in her migraine journey. That was the day the light switch was turned on! Katie has been the Volunteer Director and the Support Director for Miles for Migraine since 2019. Since joining this team she no longer feels alone in her migraine disease. She has learned so much about migraine and headache disease in the last three years. Miles for Migraine has given her the tools to build her confidence. She now teaches others how to advocate for their own Migraine and Headache Disease. In these three years, Katie has found a voice in the migraine community that she shares with her volunteers and support group community, so they can also confidently do the same in their journey with migraine and headache disease.
She has attended Headache on the Hill in 2019 in person and was inspired by the work being done in Washington, DC. to advance funding and research on behalf of those with migraine and headache disease. She also attended Headache on the Hill virtually in 2021 and 2022, which was an amazing experience. She attend Retreat Migraine in 2021 and enjoyed meeting all of her Zoom friends she made over the past two years. Joining Miles for Migraine is a "tool" that Katie recommends others should add to their "Migraine Toolbox" because you can never have enough doors to open when you need somewhere to turn to for more information about migraine or headache disease. Katie has certainly found her "tribe" since joining Miles for Migraine, her light shines brighter than it did 3 years ago and she would like to share that with you.
Sharon Rhoades is a mother of two, and a full time care-taker of her parents. She has lived with migraine disease for over 35 years, and became chronic 15 years ago.  Living with chronic migraine led her into migraine and headache disease advocacy with a focus on remove migraine stigma. She has participated in various migraine disease studies. Sharon has been active in researching  alternative methods to alleviate pain, continues to search for possible migraine attack triggers and learns all she can about migraine disease.
Sharon is the facilitator of the monthly, Buffalo Miles for Migraine, Migraine Community Group, formerly the Western New York Migraine and Headache Disorder Support Group and works with the Chronic Migraine Awareness, Inc. ARMS (Advocates Removing Migraine Stigma) program, ECHO (Education Council for Headache Online) and is a  U.S. Pain Foundation Ambassador. She continues her advocacy by participating in letter campaigns to ICER (Incremental Cost Effective Ratio), Congress, and The Buffalo News.
Volunteering and advocating has given Sharon a sense of purpose and belonging.  She finds helping others not lose hope living with migraine disease empowering. Being part of the migraine disease community makes her feel less alone and helps her continue to fight through her pain day after day.
One of Sharon's goals is to help research moving forward so others do not have to experience this disabling, neurological condition. She wants migraine sufferers to have the opportunity and ability to get their life back.
In her free time, Sharon enjoys being outside and capturing photos of nature and making photo books. Sharon also has a son who lives with migraine disease.
Jeannette is a licensed social worker, as well as a person with chronic migraine and other comorbid chronic health conditions. Jeannette has been a patient advocate within the chronic migraine and chronic pain community since 2012. Today Jeannette volunteers as the Director of Program Development for Chronic Migraine Awareness, Inc. She has also volunteered with programs such as Headache on the Hill, Retreat Migraine, the InVisible Project and CHAMP - MHAM committee. Jeannette has over a decade of  clinical experience working as a therapist in the outpatient mental health setting.and currently she holds positions as an intensive in-home clinician and as an outpatient therapist working with adults, children and adolescents and their families. Her passion is helping those with chronic illness and their families and those who have experienced grief and loss.
Anikah Salim, DrPH,MPH,CPH
Anikah has had migraine since childhood but was diagnosed with chronic migraine with aura in 2015 after experiencing a severe migraine for nearly a year. She was just starting her PhD in epidemiology when her migraine attacks became daily episodes. Trying to manage her condition amidst full-time work and school, Anikah felt alone and as if no one understood the gravity of what she was suffering through. Learning more about her condition and connecting with others in the migraine community, Anikah felt the strong urge to join the movement and advocate for herself and others.
She joined her first Miles for Migraine Walk/Run in the fall of 2018 and increased her involvement in the Migraine Patient Education Days and RetreatMigraine as well as other events. In 2019, she trained with the US Pain Foundation to become a support group leader. Personally understanding the challenges associated with traveling for in-person meetings, in January 2020 Anikah worked with Miles for Migraine to host and lead the first ever weekly Miles for Migraine national virtual support group. There are over 85 registered participants and it continues to grow daily.
After completing her doctoral degree in May 2020, Anikah has been able to dedicate more time to pursuing her passion of sharing her journey and experience to increase migraine awareness and provide support to those suffering from migraine and their families. Whether it is migraine or another chronic condition, she wants everyone to know, "You are not alone."
Deborah is an advocate living with Intractable Chronic Migraine. Always drawn to wanting to help, Deborah has held employment in the fields of non-profit Human Services and Behavioral Health. Due to increasing debilitation from Migraine disease, after medical leaves and continual decreases in her working hours, Deborah was forced to leave a career that she loved, working with patients with dual diagnoses related to Substance Abuse Disorder and  mental health. Deborah began her journey with Miles For Migraine at the first Philadelphia race. Shortly thereafter, observing the hesitancy of those living with Migraine to speak openly about their disease, Deborah started a public Facebook page, Her Migraine Life, on which she openly shares about her experiences related to Migraine. She is passionate about education, self-advocacy, and especially, countering Migraine stigma. Deborah is a Philadelphia native.
Tanya is currently pursuing her Bachelor's degree in Nursing. She has an interest in working with patients suffering with migraine disease and autonomic dysfunction disorders. She also loves doing animal rescue work and has two cats. In her free time, she enjoys reading and writing.
At 19, Tanya developed chronic intractable migraine which affected her everyday life. Later, she discovered she had an autonomic dysfunction disorder known as POTS which was the source of her migraine disease and other symptoms. This led to her having to cut back on school/work and caused her to feel helpless. She started to seek help and coping mechanisms for dealing with her chronic migraine which led her to a Miles for Migraine Support Group.
As of 2022, Tanya became a support group leader via the US Pain Foundation. Through her training and own experiences, she is excited to give the same gift to others that Miles for Migraine gave her - the gift of not feeling alone.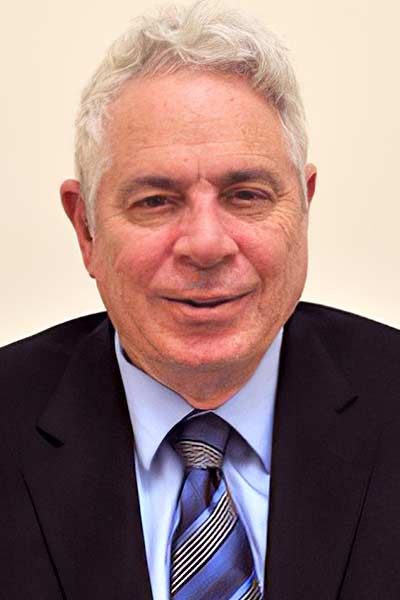 Jim Weil 's career started in high school and college, working at UCLA Medical Center as a medical research technician in the Dept of Surgery and an instrumentation technician at VA Hospital in Long Beach. Graduating from California State University in Long Beach, he entered military service as a member of the Army Medical Service Corps, while stationed at Walter Reed Army Institute of Research participating in a project to repurpose surplus gun direction computers for use in medical instrumentation. After his military service he obtained a position at the Frederick Cancer Research Center at Ft. Detrick Md, repurposing CBW instrumentation for cancer research. This lead to a position as a field service engineer involving scanning electron microscopes and x-ray analyzers which required extensive travel both in the US and all over the world.
After receiving an Apple Computer as the millionth visitor at an IEEE convention, he joined Apple in various positions in an employment span of over 13 years which included Stephen Covey 7 Habits training. While at Apple he co-founded and served as president of a Fremont Apple users group. Other employments included support, testing, training, technical writing, and marketing, with software and hardware technology. His final position before retirement was working for a local landscaping company as a certified water auditor, where he developed water management software for multiple dwelling housing complexes.
After the sudden and unexpected loss of his wife of 43 years in 2015, Jim began focusing on various volunteer opportunities. He currently serves as the facilitator of the Stanford Redwood City, Chapter of a chronic pain support group chartered by the American Chronic Pain Association,, and started the Fremont chapter of the same group, has received patient advocacy training from the Alliance for Aging Research, volunteers as a Senior Peer Counselor for the City of Fremont, and serves on the Study Advisory Committee of the Stanford Empower Project, an 8.5 million dollar study, to study patient outcomes when opioid alternatives are presented to chronic pain patients.
Jim is a life member of IEEE and enjoys such hobbies include cooking fly fishing, flight simulation and woodworking. He continues to offer personalized technology support to friends and colleagues.
Jim has had migraine since childhood, which became chronic on a daily basis around 20 years ago. He is a patient of the Stanford Pain Management Clinic in Redwood City, and has received training for migraine management using ACT, CBT, Mindfulness, Exercise, and Nutritional skills. Using the training and care from Stanford, Jim has been able to successfully manage his migraine without the use of opioids for the last 5 years.