Our migraine warrior advisory board members are people from our community who are making a difference in the lives of others who live with migraine, cluster and other headache disorders. We meet monthly to discuss topics and projects that Miles for Migraine is working on to continue bringing the community programming which fosters reduced stigma and isolation, and empowers all to understand why advocacy is a vital facet in the treatment of migraine and headache.
Kelly is a seasoned Clinical Nurse Specialist of 35 years.  As a CNS, Kelly was deeply involved and dedicated to patient, family and medical community education.  She also spent a great deal of time being an advocate on a national level for patient rights, program funding and patient/family empowerment and education.
Kelly has been published, writing both clinical articles and chapters for textbooks.  She served as a member of a National Commission and participated in the publication of the report and its presentation to Congress.  As part of her CNS and advocacy roles Kelly spoke on the National and local level on a variety of topics.
Kelly's migraine story began in childhood and progressed throughout her life until finally being diagnosed after 33 years.  Her migraines transitioned to intractable chronic daily migraine 22 years ago; where her migraine status remains to this day.
Kelly is involved in several migraine and chronic pain organizations and is a Community Group Facilitator for Miles for Migraine. Kelly is passionate and committed to making the "invisible"… "visible". Kelly has one child, a daughter, who also has migraine.
Sara was diagnosed with migraine disease 28 years ago, the year she graduated from college. She was also diagnosed with multiple autoimmune diseases in her twenties, making identifying symptoms, triggers, and treatments increasingly elusive in the early years. Her migraines became more frequent, and she began noticing the stigma associated with migraine, especially in the workplace. Shortly after ending up in the ER during a business trip, she was laid off from a non-profit position working in marketing for an animal rescue organization. She always wondered if it had something to do with her migraines but was thankful for the experience and longed to continue working in nonprofit management. In her early thirties, thanks to very supportive professors at the University of San Francisco, she graduated with an MBA - in the top 20% of her class. While in school, she was able to participate in Vince's Ride, a 1,000 mile journey by bicycle across the United Kingdom, from Lands End to John O'Groats, to raise money for cystic fibrosis. Then her migraines became daily, and she lost her job and was denied private and federal disability payments. Five years ago she was diagnosed with celiac disease, then lost another job, and was denied private disability payments again.
But when things seemed at their worst, she connected with other patients and advocates via the internet. This vast network of smart, caring people became "online migraine buddies" - people who still offer constant support and friendship. She launched herself into migraine advocacy and started raising money for and attending Miles for Migraine in 2013 and Headache on the Hill in 2015. She also has two blogs - a migraine related blog called Painfully Positive and a celiac disease blog called Gluten Free Beer Babe. It's a day-to-day struggle, but Sara is still working thanks to a friend who has helped with multiple accommodations for her health. Currently, she is the Controller for an architecture firm in Northern California, volunteers on the Supervisory Committee for a local credit union, and lives with her ten-year old rescue dog Bella. It's an honor and a delight to now volunteer on Miles for Migraine's Warrior Board.
Jenn is a patient advocate and the Director or Resources and Advocacy for My Chronic Brain, an online magazine for Chronic Migraine sufferers. She worked for more than 15 years in government affairs and public policy before migraine forced her to leave her career behind. But rallying for causes long been a part of Jenn's life and turning her illness into advocacy has been a gratifying transition. Jenn is a volunteer with Chronic Migraine Awareness and a US Pain Ambassador, most recently having helped organize the California stop of the State House Tour of the INvisible Project: Migraine Edition.
Jenn blogs about her journeys with migraine and other chronic illness at http://talesofamedicaloddity.com. And can be found on Facebook at https://www.facebook.com/MedicalOddity/
Diane is a lifelong Philadelphian, graduating from Hahnemann University before spending 30 years in the pharmaceutical industry. During her career, Diane facilitated research in drug discovery with a focus on pain relief. She has suffered with chronic migraine for 20 years which ultimately forced her to leave a career that she loved. Diane joined Miles for Migraine in 2019, volunteering as a facilitator for the Migraine Community Group at Jefferson Headache Center. Working with Miles for Migraine has allowed Diane to pursue her passion of engaging with and helping others, as she focuses on spreading migraine awareness, sharing her personal story, and supporting others through their migraine journey.
Maria is an entrepreneur, photographer, online content producer, creative and writer based in Miami.
Originally from Buenos Aires, Argentina, she grew up with big dreams and aspirations that brought her to New York and then Miami. A go-getter, independent and ambitious person, she thrived in everything she set her heart to, working with big level brands and projects around the world including American Express, JWT, The Related Group and many others. She thrived in the corporate world until her migraine condition became chronic and it affected every aspect of her life.
Not shying from this new challenge, she became very open about sharing her experience and struggles with migraine, winning the 3rd Annual Migraine Moment Award for her film, Invisible Hero. Since then she has been advocating, participating in Headache on the Hill since 2018 and speaking about her personal experiences.
She keeps pushing the envelope, and is always trying to find new ways to move forward with her condition, evolving as an entrepreneur, adapting her business into a virtual creative studio, Pink Coconut, exploring new creative business opportunities and continuing to follow her passion with photography and finding ways to be able to keep doing what she loves.
Katie M. Golden is a professional patient, writer, and advocate for those living with migraine, headache and cluster diseases.  When she turned 30 her episodic migraine attacks became a chronic, everyday occurrence. This debilitating disease ended her career in finance. She found purpose in writing honestly about the challenges of living a fulfilled life with chronic pain and quickly pivoted to become a leading patient opinion leader.
As well as serving on the Miles for Migraine Warrior Advisory Board, Katie also serves as the Director of Patient Relations for CHAMP (Coalition For Headache And Migraine Patients), staff writer for Migriane.com, consulting editor for the INvisible Project and Migraine Advocacy Liaison for the U.S. Pain Foundation. She also writes on her own blog - GoldenGraine.com, where she lives by the manta, "Never Let Your Pain Go To Waste".
"It's so important to me to attend as many Miles for Migraine events as I can. It's special to see the connections that are formed and the realization that you are not alone - all while raising awareness and money to a great cause."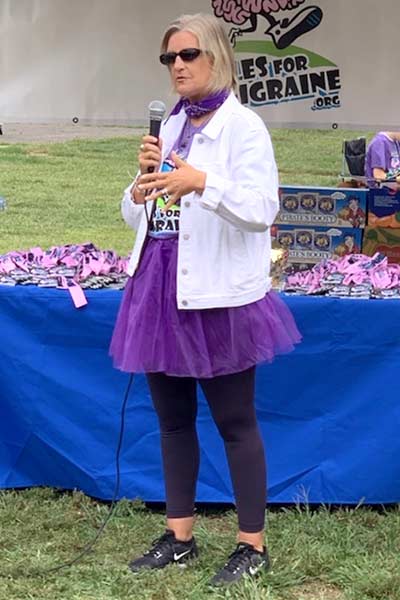 I, Katie Moran, have had Chronic Migraine for twelve years, going on thirteen years, serving on the Warrior Advisory Board has given me more power to get things done.  As a group, we collaborate with each other and we work together to find ways to get message out that migraine is a disease.  We educate others, we teach them how to advocate for themselves and for migraine.  We are starting to break down the stigma behind migraine and we are all dedicated to continuing until migraine gets the recognition that it deserves.  I serve on this board to help other learn about migraine, to support those that have migraine, as well as to represent different communities at events such as walks/runs as well as Education Days.  I do this because we want to reach out to these communities and change their perception of migraine, if we can reach one hundred or seven hundred people, reaching any amount of participants is important.  As we do this, our migraine community groups will grow, and that is how a movement is created.
Sarah Rathsack is a patient, writer and creator of the blog My Migraine Life.  She has lived with migraine since age 5 and became chronic in her 20s.  Sarah retired from being an intervention specialist for children with severe needs to be a stay at home mom.  During this time, she started her blog to explain all the challenges that migraine brings to herself and family.  Her advocacy has grown each year and her impact has reached well beyond her blog.
Now, as a preschool teacher and migraine advocate, Sarah helps many in many ways.  She serves on the Miles for Migraine Warrior Advisory Board and has fundraised thousands of dollars for Miles for Migraine.  She was the top fundraiser, largest team and received an award for being a warrior advocate participating and speaking in Cincinnati and Cleveland while walking in Phoenix.  She has more trips planned to support Miles for Migraine throughout the country and wants to focus on bringing communities together while raising funds for important migraine research and grants.
This year, Sarah was featured in a video highlighting her work with Miles for Migraine and beyond named "Meet Me at the Races."    She is also an American Migraine Foundation partner and you will find her writing on various advocacy websites.
Deborah is an advocate living with Intractable Chronic Migraine. Always drawn to wanting to help, Deborah has held employment in the fields of non-profit Human Services and Behavioral Health. Due to increasing debilitation from Migraine disease, after medical leaves and continual decreases in her working hours, Deborah was forced to leave a career that she loved, working with patients with dual diagnoses related to Substance Abuse Disorder and  mental health.
Deborah began her journey with Miles For Migraine at the first Philadelphia race. Shortly thereafter, observing the hesitancy of those living with Migraine to speak openly about their disease, Deborah started a public Facebook page, Her Migraine Life, on which she openly shares about her experiences related to Migraine. She is passionate about education, self-advocacy, and especially, countering Migraine stigma.  Deborah is a Philadelphia native.
Jamie Valendy is a writer and patient advocate who lives with chronic migraine and persistent post-traumatic headache. She serves as a board member on the Miles for Migraine Patient Advisory Board, as a moderator on the Move Against Migraine Facebook page, and as a participant at Headache on the Hill.
She shares her journey on her blog, Chronic Migraine Warrior, and has had the opportunity to speak at RetreatMigraine. Jamie believes that there is power in sharing our stories, making connections, and coming together as one voice to reduce stigma, increase education and research, and improve the quality of life for all those living with migraine and other headache disorders.
Alicia was diagnosed with chronic Vestibular Migraine in 2016 after seeing multiple doctors that misdiagnosed her symptoms for months. Eventually losing her career to VM, she created The Dizzy Cook as a way to help others who were struggling to follow a strict migraine diet, and develops delicious head-friendly recipes while sharing her personal journey to recovery. Alicia's focus is on presenting evidence-based natural treatments, along with finding relief through the joy of cooking. Her cookbook The Dizzy Cook: Managing Migraine with More Than 90 Recipes and Lifestyle Tips was released last April on Amazon, Barnes & Noble, and Target.
Alicia is heavily involved in the migraine community as she currently writes for "Migraine Again" and "Migraine Strong." She also is the food editor for "My Chronic Brain" and plans local Dallas events for the migraine community through the national non-profit, Miles for Migraine. She is also a member of their patient advisory board. As an Ambassador for the Vestibular Disorder Association, Alicia continues to spread awareness about Vestibular Migraine by working with patients and advocates.